ENG vs ITA: UEFA charges England over Denmark win ahead EURO 2020 final
The second Euro 2020 semi-final match that was played between England and Denmark match was full of a lot of controversies. The highlights of all these controversies was that Raheem Sterling's penalty was judged by fans and the media to be a dive. Another major controversy was that Denmark Goalkeeper, Kasper Schmeichel had a laser pointed at his eye when England Captain, Harry Kane was about to take the resulting penalty. This has brought serious consequences to England.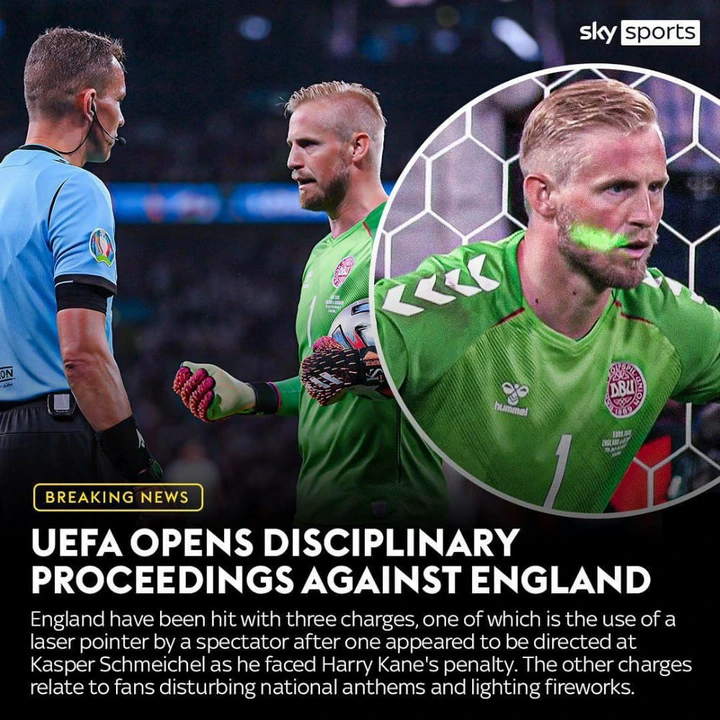 Photo credit (Sky sports)
According to reports, England has been charged by UEFA over a fan pointing a laser at Kasper Schmeichel's eyes when Kane was about to take his penalty. They have also been charged with fans disturbance while the National Anthem was going on. Aside from that, they have been charged for fans lighting Fireworks in the stadium that the semi-final match between England and Denmark took place. If severe disciplinary measures are taken against these actions, then it may affect England even if they eventually become Euro 2020 Champions.
Share this unique article across all social media platforms and please don't forget to maintain social distance, wear your face masks, wash your hands regularly with sanitizer for prevention is better than cure.
Thanks for reading, the topics covered here are available for positive progress and critical assessments. Please do well to drop a comment below and share the article with as many as possible